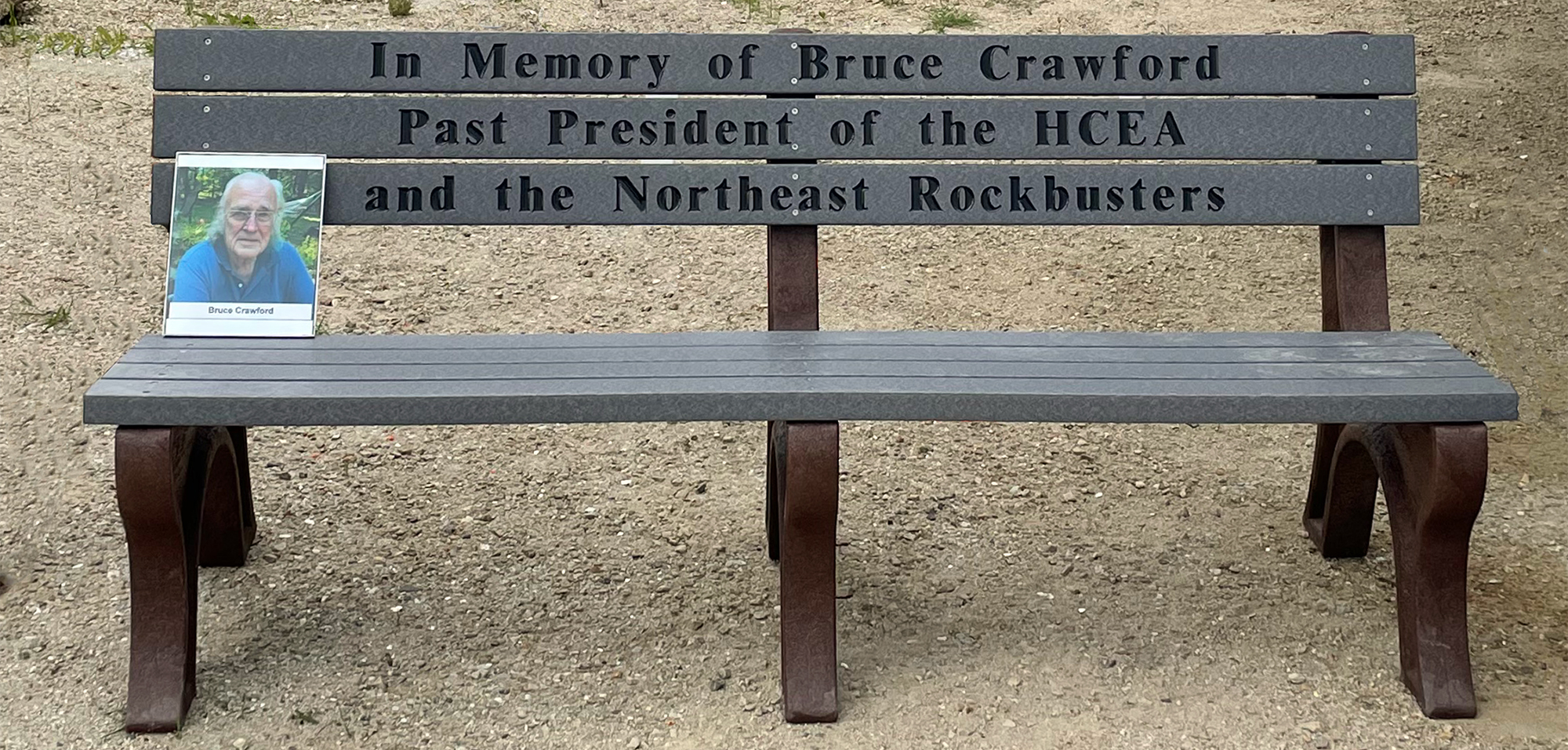 The Northeast Rockbusters Chapter of the HCEA had a bench made in honor of the late Bruce R. Crawford. The bench will be transported to the Historical Construction Equipment Association show that will be held in Bowling Green Ohio, in September. Rockbusters President Ted Valpey III will transport the bench to the show.
---
Gil Berkley - of North Falmouth, passed away on August 1st, in Falmouth, MA. He is survived by his wife of 40 years, Patricia (Kelleher). He is predeceased by his parents, Richard & Carolyn (Elwell) Berkley of Plainville, MA.

Gil leaves 2 sons, Gregg M. (Sandy) of Falmouth & Gary J. (Mary-Beth) of North Attleboro, MA. He also leaves 7 grandchildren: James, Heather, Victoria, Michael, Chelsea, Jessica & Miranda; 4 great-grandchildren: Ondreya, Axel, Beau & Mia; 3 nieces: Stephanie Burbine, Kathy (Kelleher) Gonzalez & Laura Kelleher; 4 nephews: Lee, Ricky, John &Jeff Gale; 2 great-nieces: Amelia Burbine & Ayla Gonzalez & great-nephew: Elias Gonzalez.

Gil grew up in Plainville, MA, hunting, fishing, Scouting &as a volunteer fireman. He graduated from Plainville High School in 1949 & attended Northeastern University, Boston. He served his country in the Army during the Korean War between 1953 & 1954 with the rank of Sergeant. Returning from his service, he started his long career in bridge & road construction.

Gil began his career as a superintendent with Munroe-Langstroth working on the Mass. Turnpike bridges & the flood control project in North Adams; with Coleman Brothers on the Newport-Jamestown Bridge; & with the Henley-Lundgren Co., he worked on the Route 91 Interchange in Springfield, Route 49 in Spencer, the "Beetleback" in Natick & Route 25 in Wareham & with the J.F. White Contracting Co., he worked on the HOV Lane & CANA in Boston & Route 25 at the Bourne Bridge.

Gil was a Mason in the Bristol Lodge of North Attleboro & a Scottish Rite Shriner in the Aleppo Shrine. He loved good fishing & boating on the Cape with family & friends on his boat, Pat's Mink. In his retirement, he volunteered for the American Cancer Society's Road to Recovery program.

A visitation will be held on Monday, August 8th, from 4 - 6 PM at Chapman Funerals and Cremations, 584 W. Falmouth Highway, West Falmouth, MA. Burial is private.

Memorial donations may be made to the Falmouth Service Center, 611 Gifford Street, Falmouth, MA, or to a charity of your choice.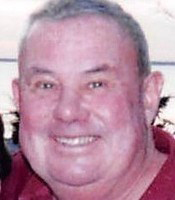 The Northeast Rockbusters regret to announce that we have lost one of the most important members of the Northeast Rockbusters Chapter of the HCEA. Bruce Crawford passed away on Tuesday, February 22nd after a short illness. Bruce was the foundation of the club, wearing many hats including Treasurer, Membership Secretary, and Newsletter Editor. Bruce leaves many shoes to fill, but since we are Rockbusters, we will conquer that task! Rest in Peace Bruce Crawford

Bruce R. "The Crank" Crawford of Boscawen, NH, died peacefully in his sleep after a short illness on Tuesday, February 22, 2022.

Bruce was the son of Edward and Dorothy (Richards) Crawford.
Bruce believed passionately in the rights of individuals and small business owners. He was actively involved with Northeast Rockbusters, the Antique Truck Club of America Granite State Chapter, the Auto and Truck Recyclers Association of New Hampshire and the Massey Ferguson Club. He worked to assist these and other organizations, keeping up to date with current legislation and regulations, as well as acting as an advocate for them. He was on the Boscawen Water Precinct, the Boscawen Historical Society and other town organizations. Bruce was an accomplished diesel mechanic who sold and repaired trucks and heavy-duty equipment most of his life. He enjoyed sharing his knowledge and skills in this area.

Bruce is survived by his daughter, Cassie Crawford-Eckel and her husband, David, his daughter, Christina Balassone and her husband, Guy; and his son, Joseph Crawford and his partner, Erin Clougherty as well as Bruce's partner, Elaine Clow-Martin.

A Private Family Service was held on Monday, February 28, 2022.

In lieu of cards or flowers please send memorial contributions In Bruce's name to any of the above organizations or donate your time to them.

Arrangements were entrusted to Bennett Funeral Home of Concord, NH.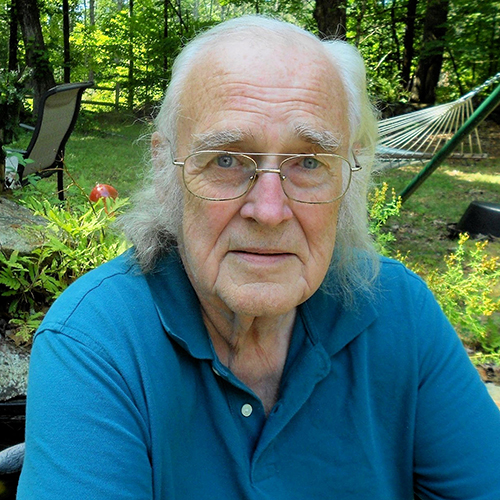 The Northeast Rockbusters are sad to report that Rockbuster member William P Bonito has passed away. Our condolences and prayers to Williams family.

William P. Bonito, 70, of East Falmouth, passed away peacefully on January 19, 2022, after a brief illness at Cape Cod Hospital. Devoted and loving son, born to the late William and Norma Bonito, on April 25, 1951, he lived his entire life in East Falmouth.

Known by family and friends as "Billy" or "Pat", he will most be remembered for his industrious nature. While most people look forward to retirement, he took immense pride in his work, and the fruits of his labor grace the rocky shorelines from Falmouth to Provincetown.

When his father formed Bonito Construction, he immediately took to construction and operating heavy equipment. That passion never faded, and he continued what he loved.

He took great pride as a native Cape Codder and loved the Town of Falmouth and the people in it. We will miss the stories of the good ol days in Falmouth where neighbors were family and your word and a handshake were worth more than gold.

He was a member of the Historical Construction Association, & Northeast Rockbusters, & a lifetime member of Local4.

Those who knew him well appreciated his kind heart, warm smile, & child-like sense of humor.

When he wasn't at the plant or a job site, he appreciated the simpler things in life like a fresh cup of Dunkin Donuts coffee, curling up on the couch with his dogs, and going to truck, equipment, & antique toy shows.

His legacy will live on through the many gifts he left in our hearts. The joy of a hard day's work, the power of humility, and the rewards of living with integrity.

He leaves behind his eternal love, Kathleen Sodekson, her beloved sons Alex & Josh, and their Dachshund Sadie. And was greeted at heaven's gates by his love bug, Missy's wagging tail and exuberant bark.

He is also survived by his daughters, Nanci Williams and Jennifer Bonito of ME, his sister Sharon Losordo and her husband Jonathan of Falmouth, his nieces Julie Shedlock and her husband Matthew of TX, and Mary Losordo of UT. He was predeceased by his son, William Jason Bonito and his daughter, Diane Bonito.

Visiting hours were 9:00 AM - 11:00 AM on Wednesday, January 26th at Chapman Funerals & Cremations, 475 Main Street, Falmouth, MA. A Funeral Mass will follow at Noon at St. Anthony's Church, 167 East Falmouth Hwy. (Route28) East Falmouth. Burial was at St. Anthony's Cemetery, East Falmouth.

In lieu of flowers, donations may be made in Billy's memory to Tommy's Place, Tommy's Place Foundation, 90 Shore Avenue, Quincy, MA 02169, or Friends of Nobska Light, PO Box 183, Falmouth MA 02541.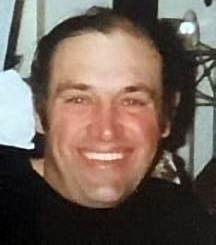 The Northeast Rockbusters recently held their annual membership banquet on November 14th. The annual Fred Perkins Award was awarded this year to Dave Nichols. In the photo, past Fred Perkins award winner Richard McCarthy presents to Dave Nichols. Dave has put in countless hours in preparations and making sure things are going smooth at the Northeast Rockbusters Annual Equipment Shows! Congratulations Dave!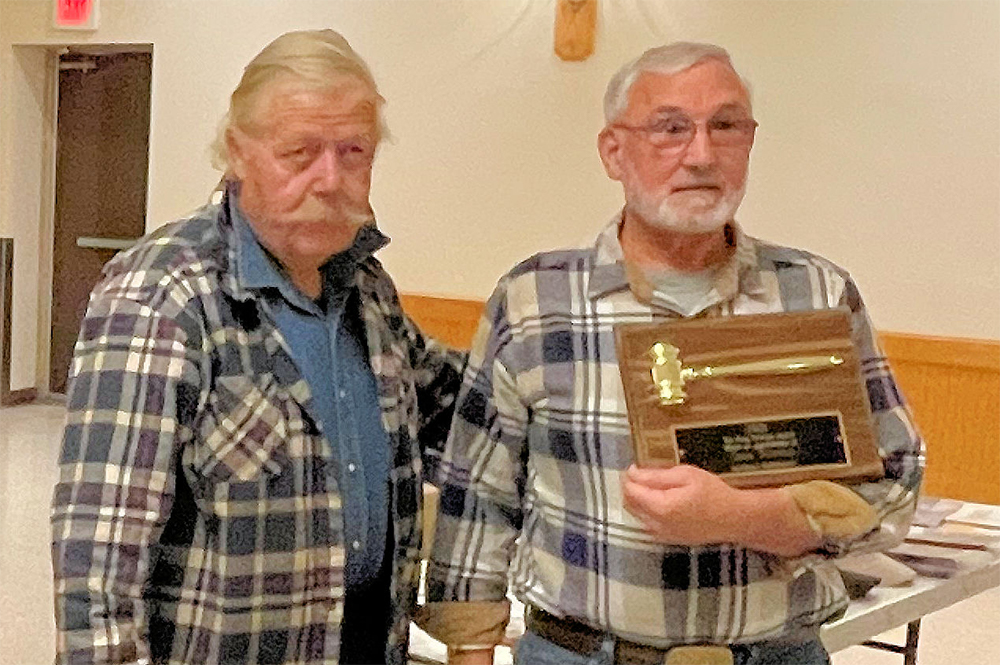 At the recent Rockbusters Banquet, President Ted Valpey III presented two "Extra Mile Awards" to both George Taylor for bringing equipment and going above and beyond in helping out at the Rockbusters Show, and to Gary Munsey Jr., who literately came the extra mile from Ohio with his family to attend the Rockbusters show and helped out in every way that he could! Congratulations to George and Gary.
8/15/19 We were pleased to learn that The "Construction Equipment Guide" did a nice story (with photos) on our 2019 show in Concord NH. If you'd like to enjoy it, click here.
---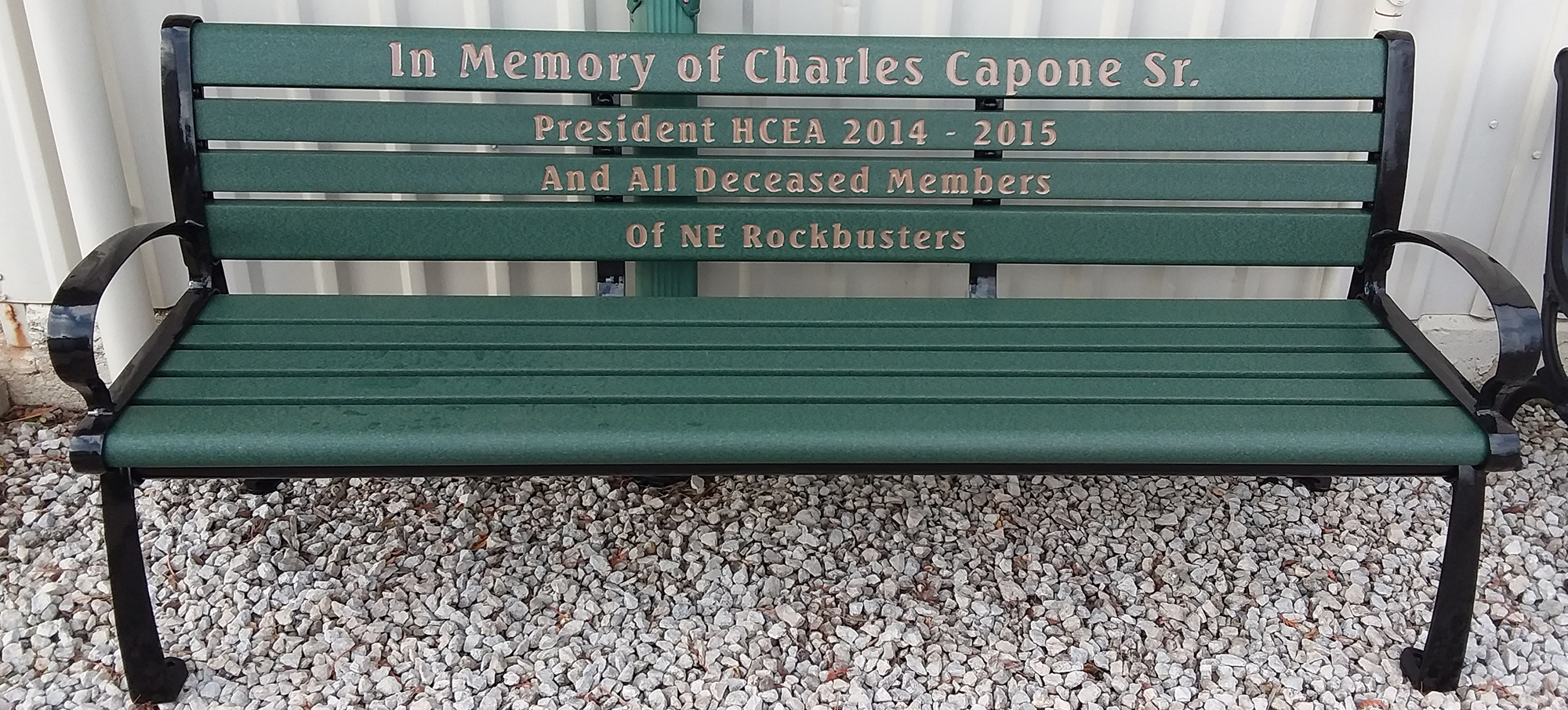 The Northeast Rockbusters Chapter of the HCEA have purchased a bench seat in memory of Charles Capone Sr. and other Rockbuster members who have passed away. The bench is located at the Historical Construction Equipment Association Headquarters in Bowling Green Ohio. Thanks to Kevin Maguire, Sam Sicchio and other Rockbuster members for making this happen.
---
A reminder to members about keeping up to date with your dues: You don't want to miss a Newsletter. You can pay here on our website, or at an upcoming meeting.
---
Existing Members: We Need Your E-mail Address! Please share it with us so that we may update our database and begin sending you the newsletter by e-mail. Please complete this e-mail form.
---